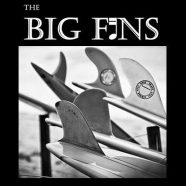 A bunch of friends with a broad range of experience team-up in this 9 piece unit to create a fun atmosphere for all ages. Classic songs loved by everyone are brought together in a casual style that is infectious and impossible for the audience not to get-up and join in on the dance floor. If you love Van Morrison, Joe Cocker, The Commitments, and Amy Winehouse you will enjoy the spirit of the Big Fins.
Performing live at the Belle on Friday, 30th November in the Main Bar.
Read more about them on their Facebook page.