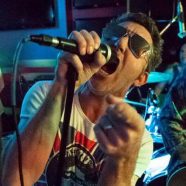 There is no biography for these guys, they just punk stuff up, that's about it!
With an eclectic range of influences such as Dead Kennedys, The Stooges, Iggy Pop, MC 5, Radio Birdman, Kamahl and Frank Ifield, the boys from Moot know how to deliver a Punk-fueled night of awesomeness.
Playing live at the Belle on Friday in the Main Bar.