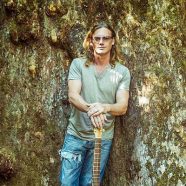 The Glen Mead band's music is a fusion of rock, roots and country. It's fun and exciting, and it projects in every live performance. Glens' vocals have been described as amazing and expansive, likened to Don Henley and Bryan Adams. His frantic rhythmic guitar playing and drumming is a fresh approach to live performance, incorporating classic rock feels along with underlying dance drum beats. The songwriting is mature and well crafted, thought provoking and encapsulates the four seasons of peoples souls.
The multi instrumentalist , singer songwriter, has performed private parties for Cold Chisel through to drum solos with James Morrison at Sydneys' Opera House. An extensive 27 year musical career has had him backing international artists around the world and at home with home grown talent. He has sung at private dinners for the prime minister and taught percussion clinics in Kakadu for the local school children.
Read more on his Facebook page.
Don't miss this amazing performer, playing live at the Belle on Sunday 24th January, from 3-6pm in the Beer Garden.