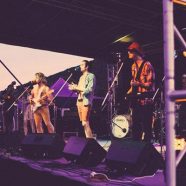 With the salt water of Australia's Mid-North Coast and music flowing through their veins, Galleri's songwriters unleash story upon story, deeply personal and yet somehow encompassing so many aspects of the human condition. They kindly invite you in, and blow you away.
Since its release, Galleri has shared stages with Ngaiire, Barons of Tang, Lime Cordiale, Crooked Fiddle Band, Perch Creek Family Band, The Mountains, Achoo! Bless You and more, in venues stretching from Byron Bay to Sydney, as well as making its mark on festivals including Akoostik, Groovin' The Moo, The Descent and Sounds on Sunset.
Find out more at Galleri Music.
Galleri will be playing LIVE on Saturday 1st December, for our Summer Launch Party.
We hope to see you there!