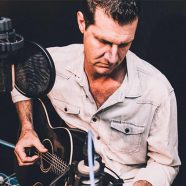 Multiple award-winning Australian Blues musician Darren Jack has been electrifying audiences with his signature powerhouse Rock 'n' Blues and original music for over twenty years.
Darren first fired up the Blues scene as the driving force behind award-winning band Third Degree which introduced a legion of Blues enthusiasts to his powerful vocals and exceptional artistry on the guitar. After six years fronting the band, Darren ventured out as a solo artist under the name Darren Jack . For the past 13 years he has collaborated with some of Australia's finest musicians, touring throughout the country thrilling audiences with his passionate performances and proving why he is regarded as one of Australia's top Blues musicians.
Playing live at the Belle on Saturday, 4th May in the Main Bar.