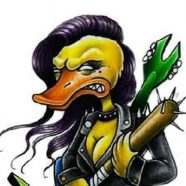 Since forming in early 2016 Cranky Duck have quickly become known for their energy and enthusiasm towards their performances, both on and off the stage. They have a reputation for tackling a wide variety of covers, fun and danceable, heavy and intense, slow and sultry, and those songs you haven't heard in years that you forgot you loved. No genre is off-limits.
With a killer rhythm and low end section, two shredding guitarists and a powerhouse female vocalist, Cranky Duck put together shows that keeps the patrons coming back for more. Influences include Led Zeppelin, Guns'N'Roses, Heart, Nirvana, Metallica and Killing Heidi.
Live at the Belle from 8:30pm in the Main Bar.